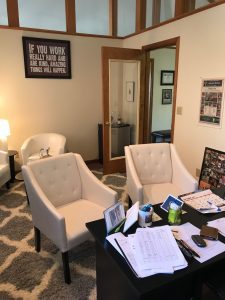 After many years, Recovery Without Walls (RWW), has moved its offices. Still located at 350 Gifford Street in Homeport, and only up one flight of stairs, the new location provides more space in order to meet the continuing growth of the RWW program. The office has an open, light feel with partial glass walls which enhance the comfortable and warm atmosphere that is so important to our work.
No longer cramped for space, the new office has ample room to accommodate RWW volunteer administrative and holistic staff.
As you enter the new office, there is a welcoming seating area, coffee station and bench for removing and storing shoes before meditation.
Bill Dougherty, Founder and Executive Director of RWW, has a spacious office with a relaxed meeting area for visits and wellness check- ins with clients as well as collaboration with community partners.
A second office offers ample space for volunteer staff and includes a desk, computer and work area for helping with ongoing organizational tasks, event and outreach planning, as well as grant development.
An exciting added feature is our third room which is a new meditation studio for our holistic based program, The Gathering Point (see article on page 3 of our newsletter).
The sustaining contributions from our generous donors and the tireless fundraising efforts of volunteers have afforded us the opportunity of continuing to carry on and build on the mission and vision of RWW.